Novinky / news 2016
---
24.12.
Krásné Vánoce a šťastný nový rok!
---
12.12.
IHA Wels 10.12.2016
Flynn Rider Caer Dallben - EX1 CACA, CACIB, BOS
Kraksangens My Fair Lady - EX2 res. CACA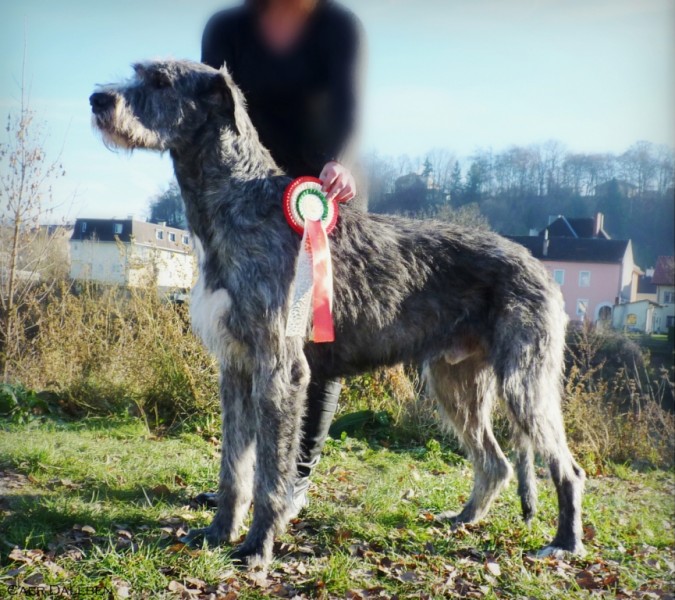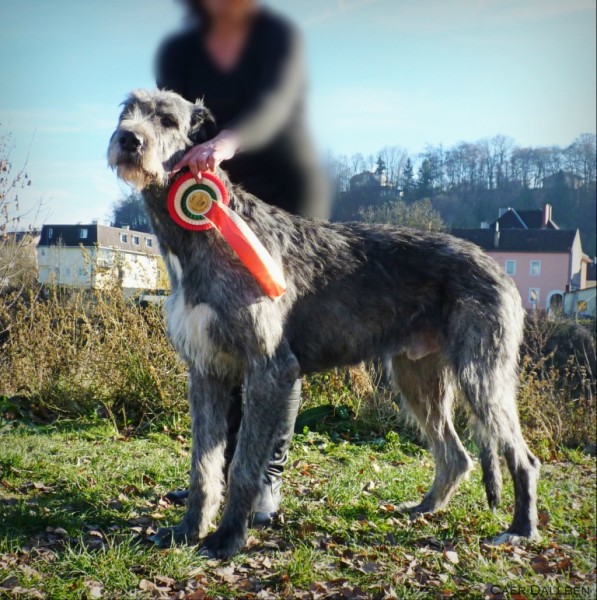 A nádherné fotky našich holčiček Chary a Angel s vánoční tématikou. And very nice Christmas cards with little Chara Saoirse Caer Dallben and ''Angel'' (Hetu Niamh C. D.) from Nicole and Fritz. Thank you!
I really love it!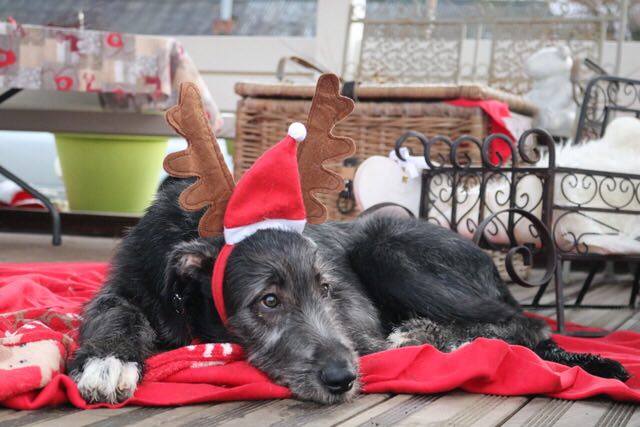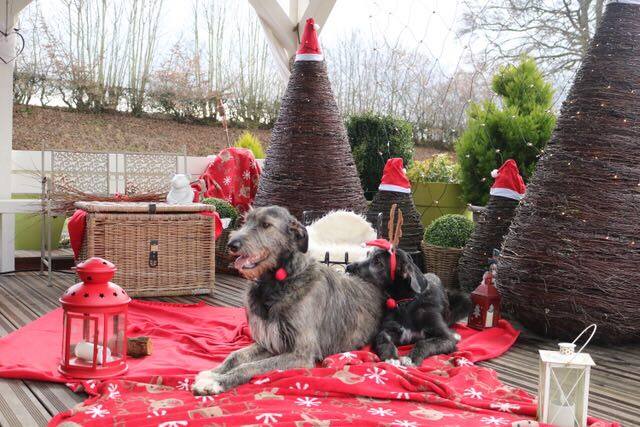 ---
08.11.
Výlet na Slovensko se povedl a přivezli jsme si titul za první místo ve třídě otevřené. A trip to Slovakia was successfull and Flynn brought the title for the first place in the open class.
Flynn Rider Caer Dallben
Danube Duo CACIB Bratislava 6.11.2016 - Excellent 1 CAC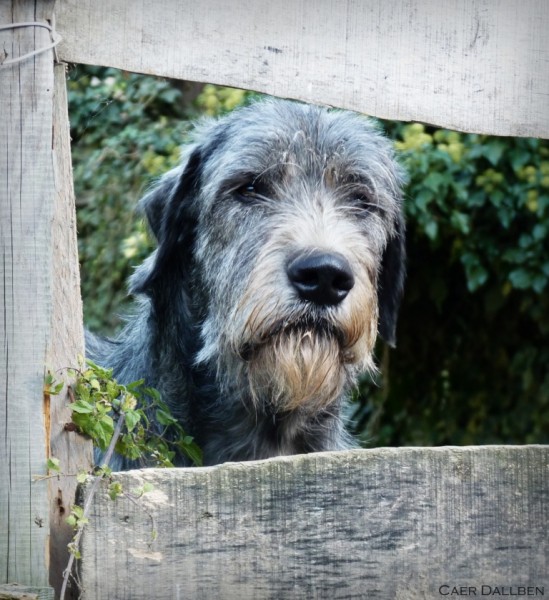 A potom přidávám pár fotek některých našich odchovanců. Jsem na ně nesmírně pyšná a všem páníčkům moc děkuji za perfektní péči! And then a few pictures of our offspring. I am extremely proud about them and thank you for the excellent care to all the owners!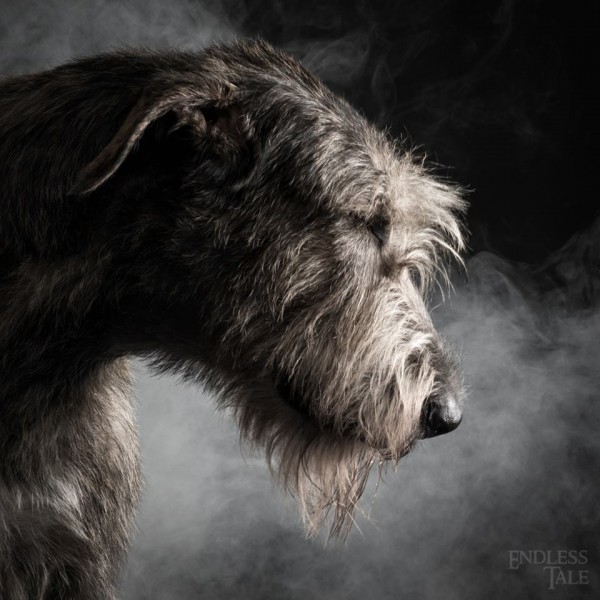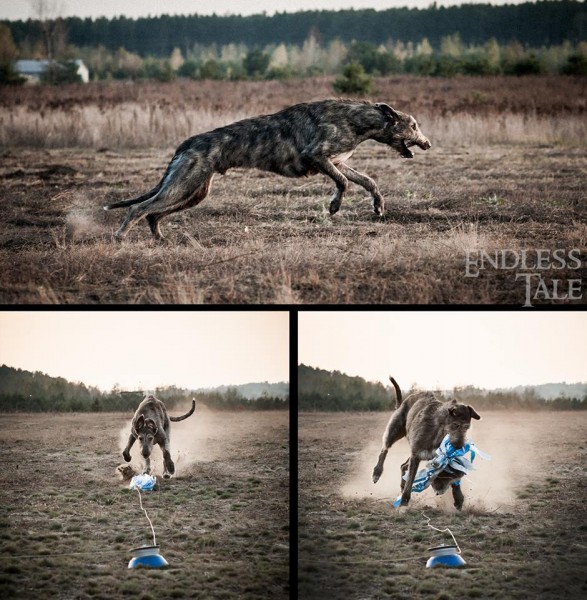 Ch. Gwydion Caer Dallben ''Garmr'' with the wise face and like a coursing runner, proud owners Victoria and Sergey Bolkin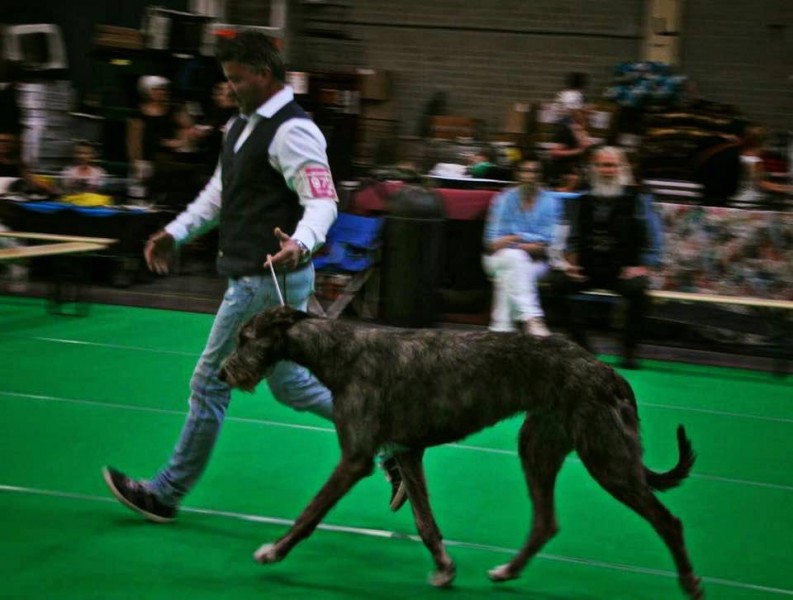 JCh. Hetu Niamh Caer Dallben and little Chara Saoirse Caer Dallben, loving home with Nicole and Fritz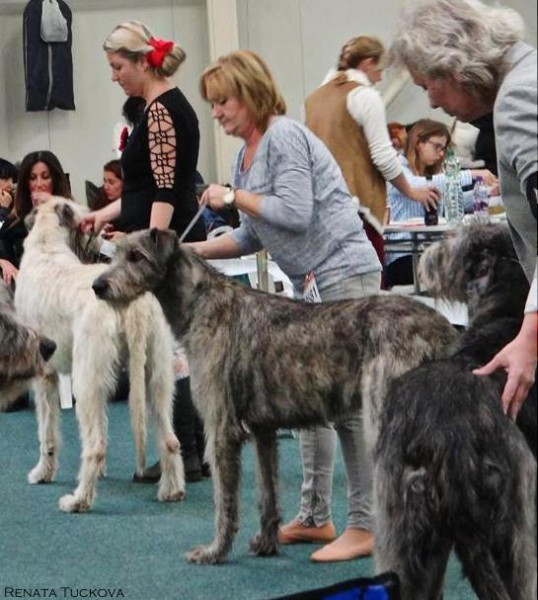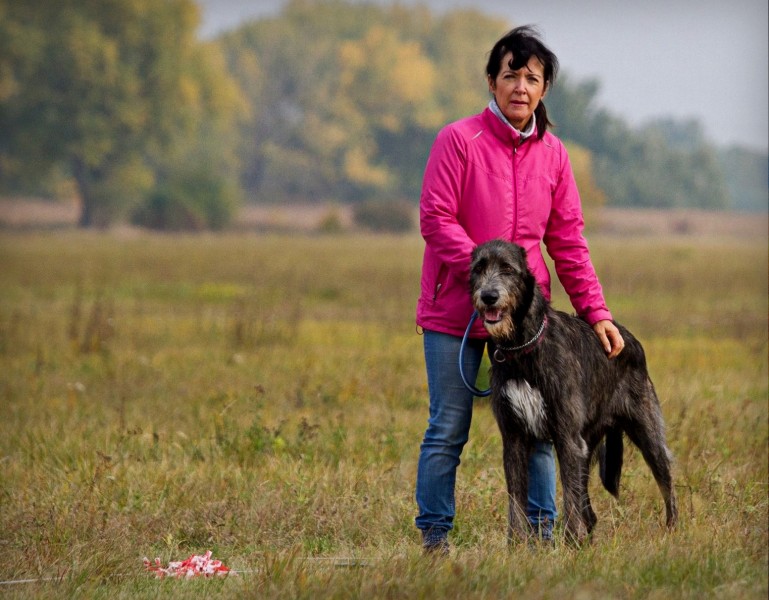 JCh. Gaynor Caer Dallben Hani Caoimhe Caer Dallben ''Kiwi'' with her loving owner
Chosen Killian and Charming Velkan Caer Dallben
Chevonne Caer Dallben with her friend
---
02.11.
Podzimní sluníčko, které se teď objevuje opravdu jen sporadicky, se musí ihned využít na příjemnou procházku s rodinou a pejsky.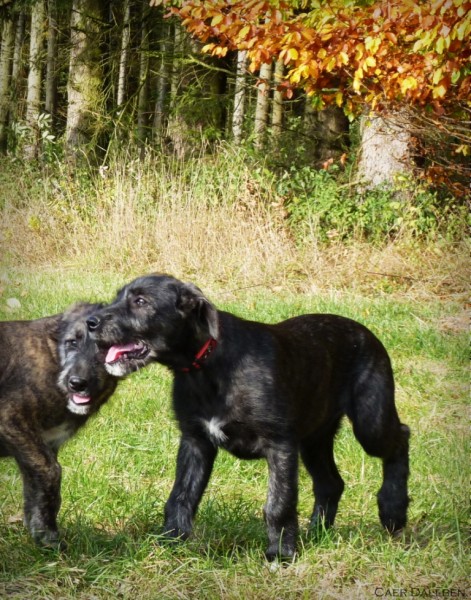 ---
10.10.
Baboo matka vrhu ''CH'' Caer Dallben pouhé dva měsíce po porodu a vypadá opět fantasticky. Je to naše zlato. Baboo mother of the litter '' CH '' Caer Dallben just two months after giving birth and she again looks fantastic. She's our darling.
MVP České Budějovice - 9.10.2016
Kråksångens My Fair Lady ''Baboo'' - EX 2 res. CAC
Flynn Rider Caer Dallben - EX 1 CAC, res. CACIB
---
01.10.
Dnes slaví naše holčička Dorotka 5. narozeniny a spolu s ní i ostatní sourozenci z vrhu ''D'' Caer Dallben. Takže všechno nejlepší! Today celebrating our Dorothy her 5th birthday along with her other siblings from the litter ''D'' Caer Dallben. All the best and happy birthday!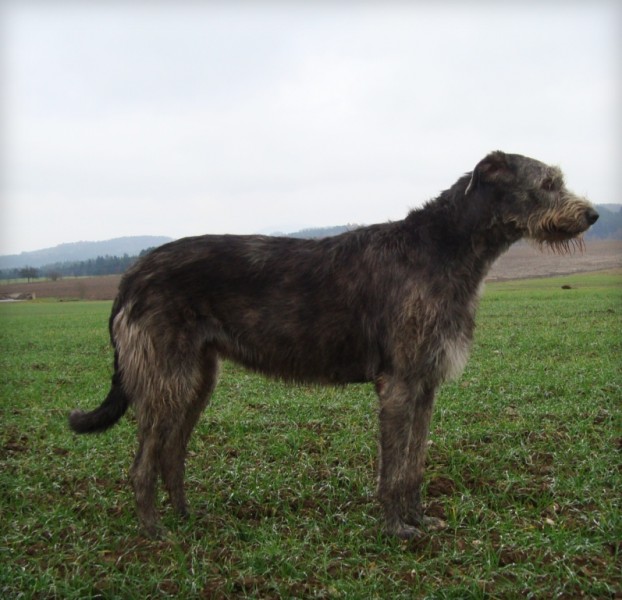 ---
28.09.
Ch. Gwydion Caer Dallben ''Garmr''
CACL UA 24.09.16
1. místo / 1st place - 369 (182/187) bodů / points (400 je max / is max)!
Rozhodčí / judges Tamas Pagany and Виктория Лудченко
Big congratulations and thanks to owners Victoria Bolkina and Sergey Bolkin!
Photos by Александр Крушельницкий, thank you!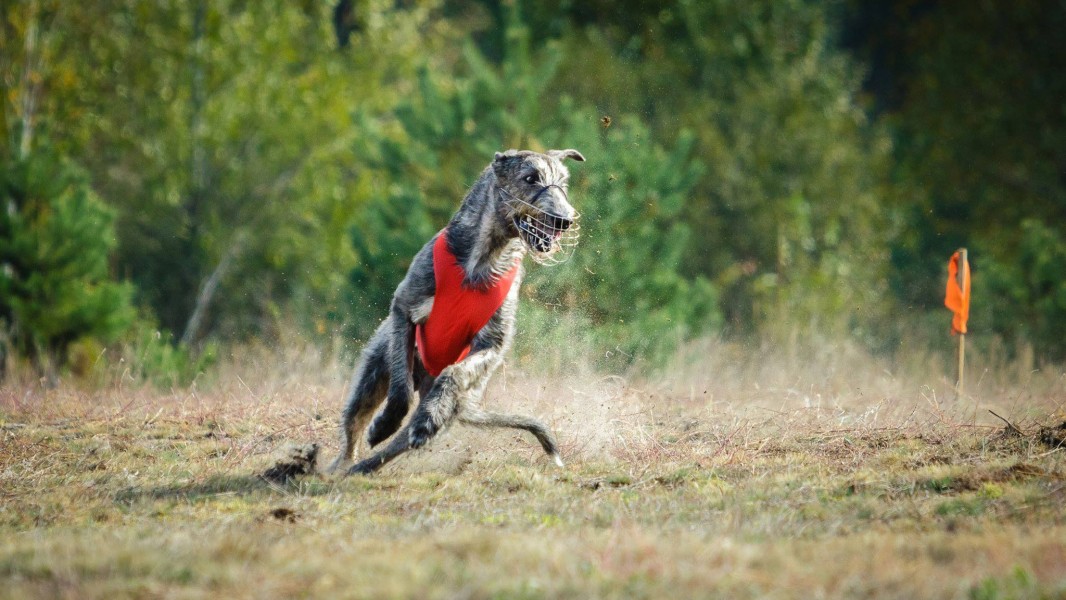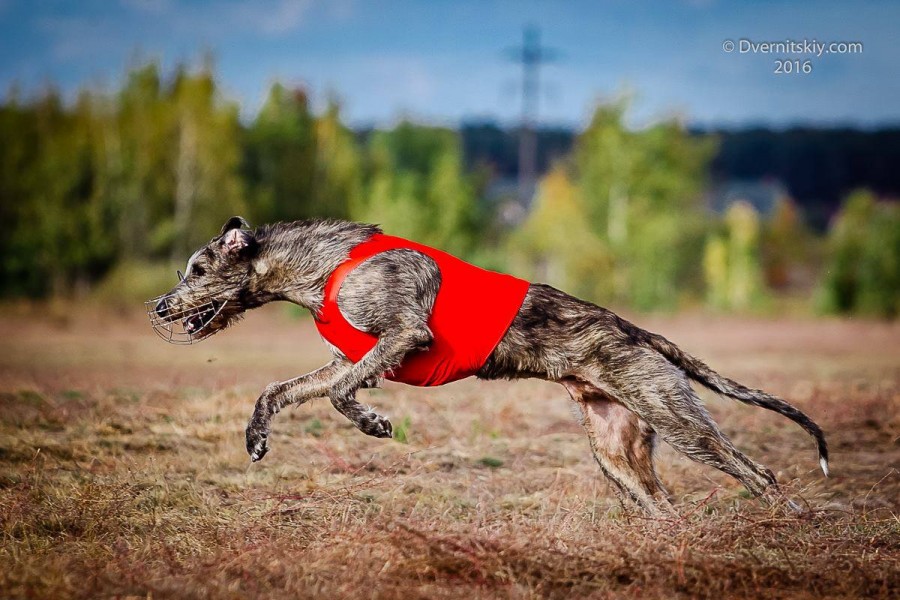 Gwydion C.D. 2 years
---
20.09.
Nové fotky štěňátek, která byla poprvé venku. Více fotek ve fotogalerii štěňátek. New photos of puppies, first time out. More photos in the photo gallery of puppies.
---
18.09.
Klubová výstava WDK Konopiště 2016 / Club show WDK Konopiště 2016
Flynn Rider Caer Dallben - open class EX2 res. CAC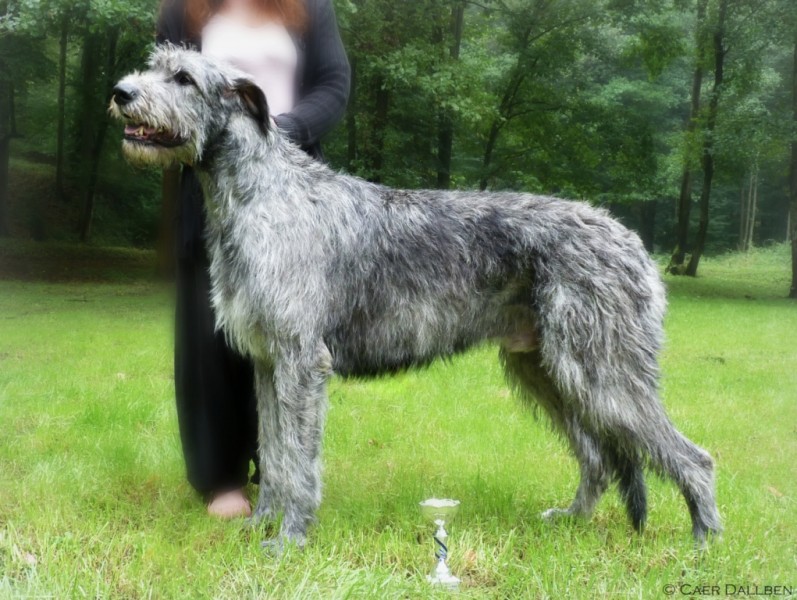 Flynn 2 years
---
19.08.
14.08. 2016 se naší holčičce Babunce narodila štěňátka. Všichni jsou zdraví a v pořádku. Miminka krásně rostou. Máme z nich velikou radost. Baboo je skvělá maminka. Co více si přát? Our girl Baboo gave birth to seven lovely puppies. All are healthy and fine. Babies grow beautifully. We are very happy. Baboo is a great mother. What more could you ask for?
---
04.08.
Baboo 50. den březosti, už je to pěkná boubelka:-). Baboo 50th day of pregnancy, she's a nice plump now:-).
---
12.06.
Today we celebrate a double anniversary! Birthday of the litter '' G '' (2 years) and Birthday of the litter ''H '' (1 year) Caer Dallben. To all our puppies best wishes and many more years with their wonderful owners.
Our Ivy one year old now
---
06.06.
Beautiful photos of our Flynn Rider Caer Dallben from EIWC 2016. All thanks for them to Anne-Birgitte Larsen.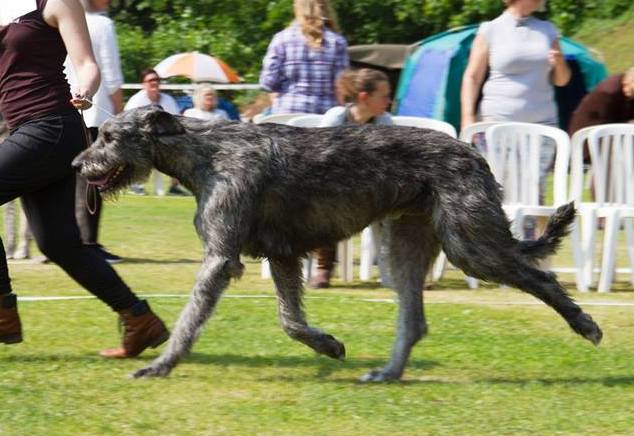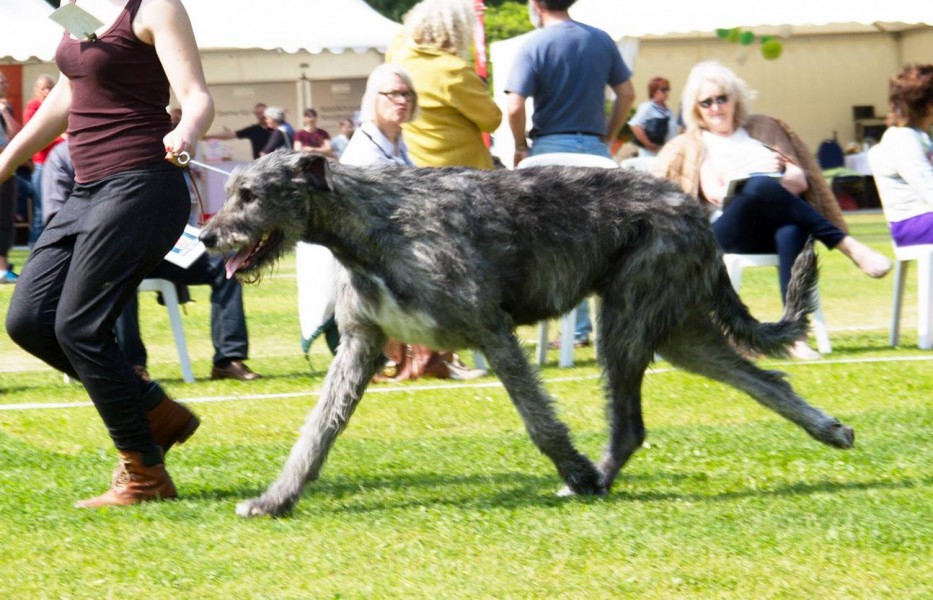 <<<
Amazing Great Gatsby Caer Dallben at EIWC 2016 with his loving owner Anne.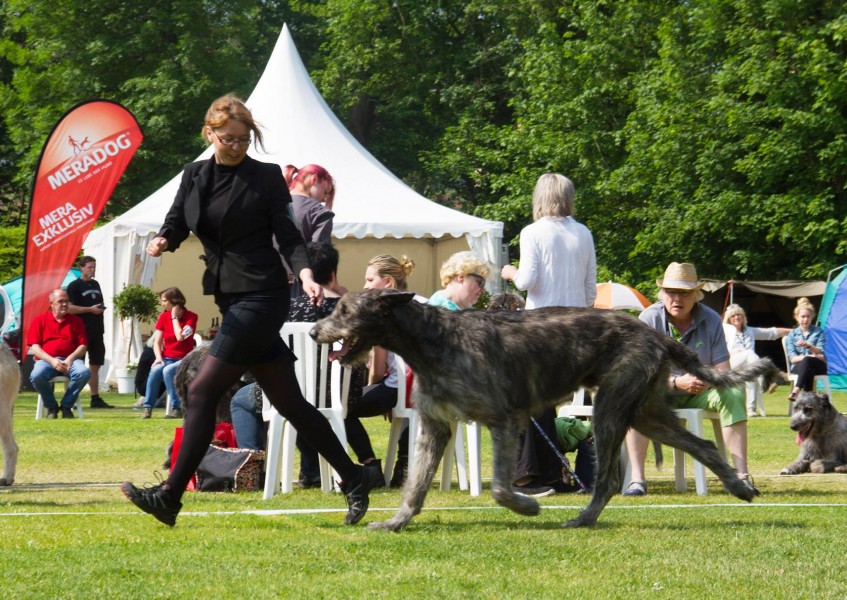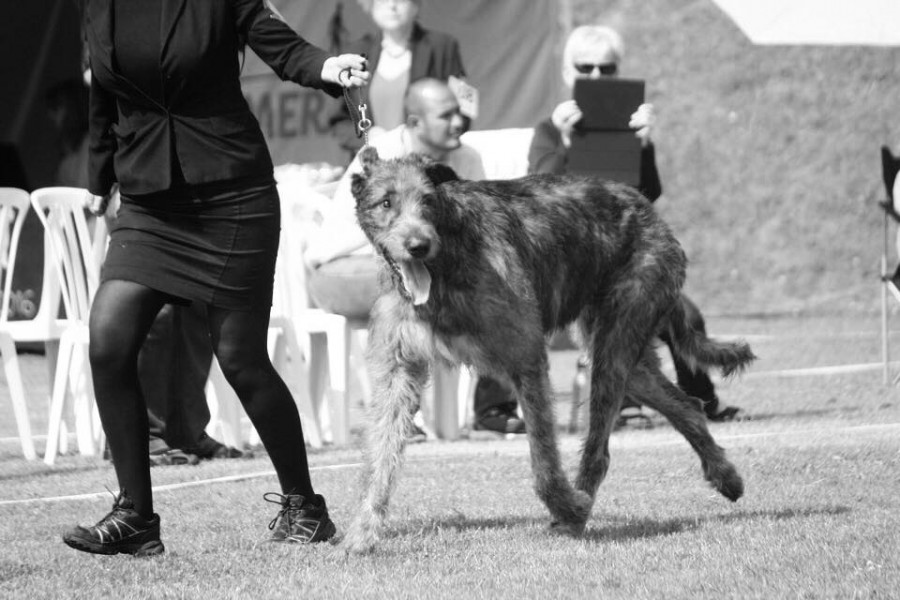 <<<
Gaynor Caer Dallben
Grand Prix Budapešť 5.6.2016 (judge: Mr.Christophe Coppel)
Intermed.- Excellent, CAC, CACIB, BOS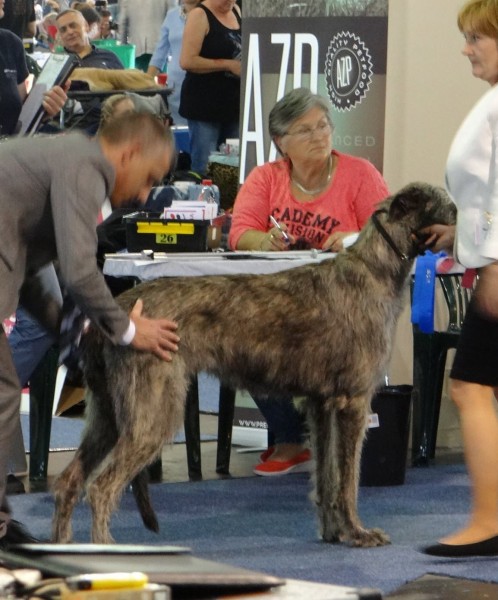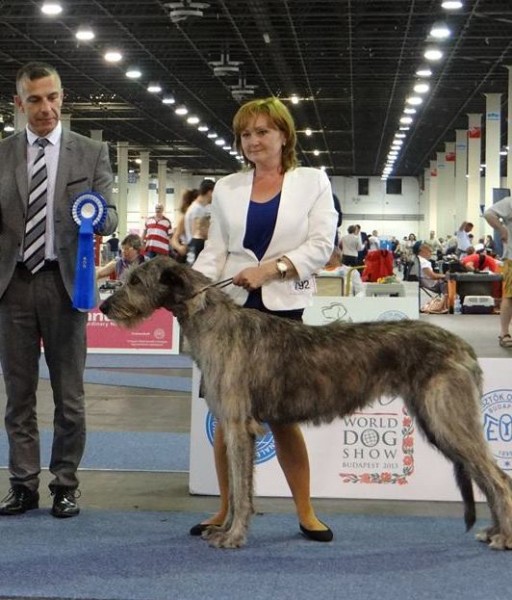 Photos by Renata Tučková
<<<
2nd Birthday of the litter ''F'' Caer Dallben. Happy Birthday Firenze and Flynn!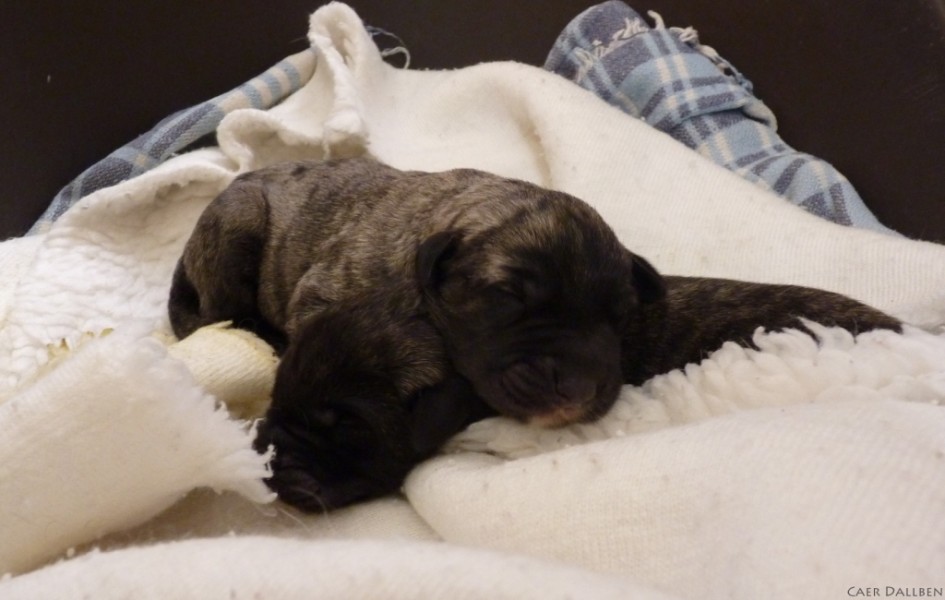 ---
28.05.
Nice time for Caer Dallben at EIWC Congress 2016 and IW Speciality in Nörten Hardenberg! Baboo got EXCELLENT in the huge open class (entered: 50+ females).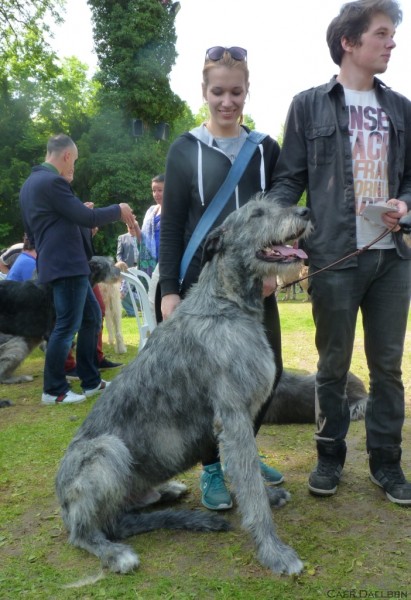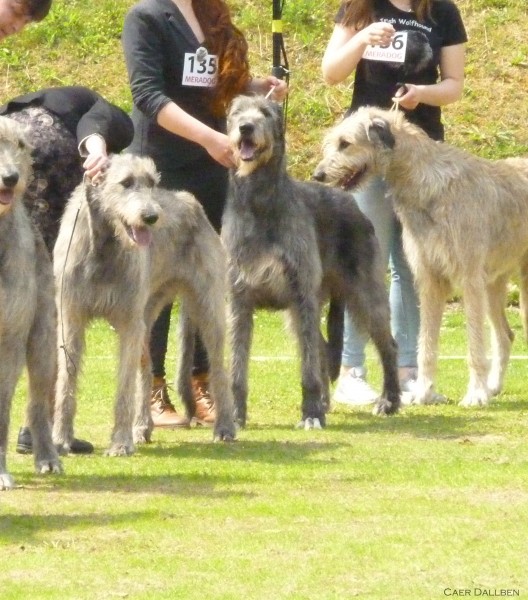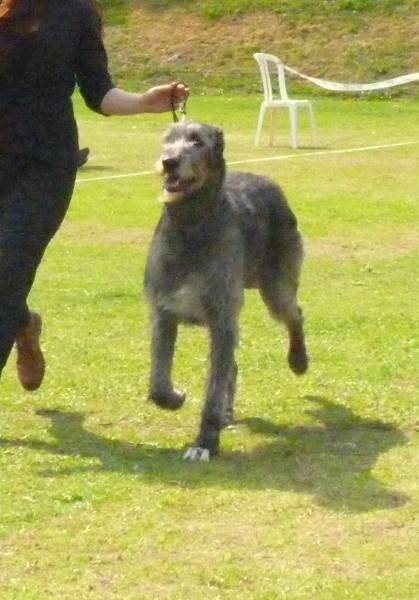 ---
BE JCH Hetu Niamh Caer Dallben
Expo Wieze Belgium CAC 15/05/16, judge: M. Grunheid Jean-Louis
Best Junior!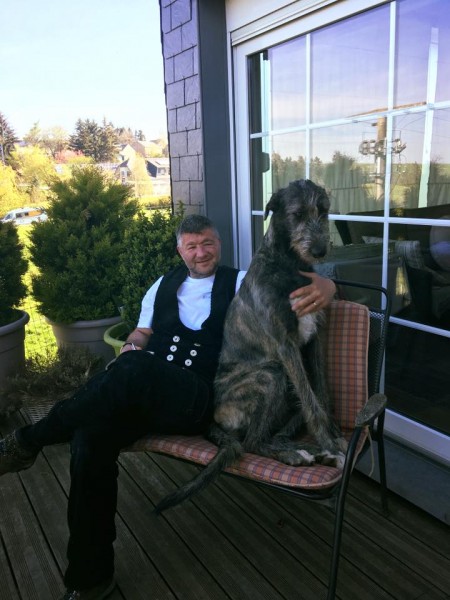 Photo by Nicole Bauschleid
<<<
CH Gwydion Caer Dallben
7.05.16 «Spring Сup» Kyiv, Ukraine
CAC, BOB, BIG-1, BIS-3!!!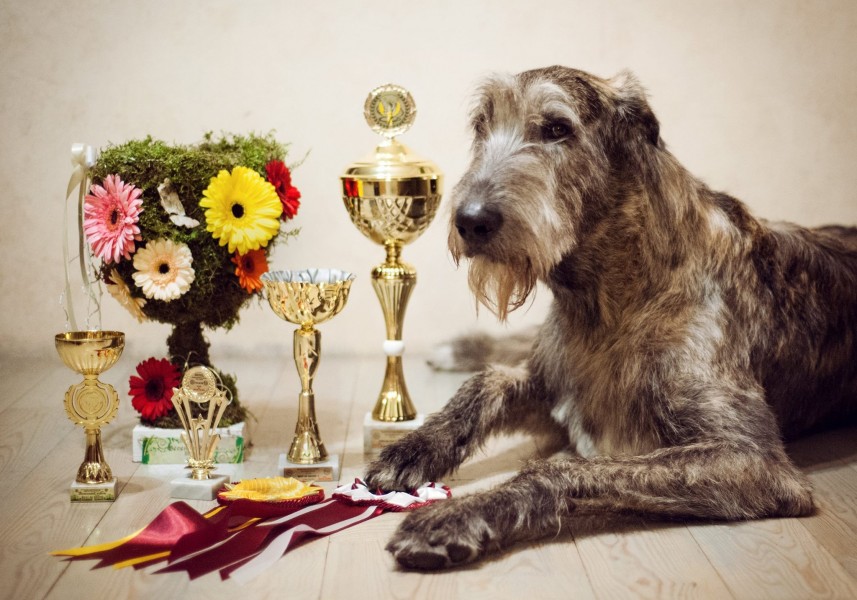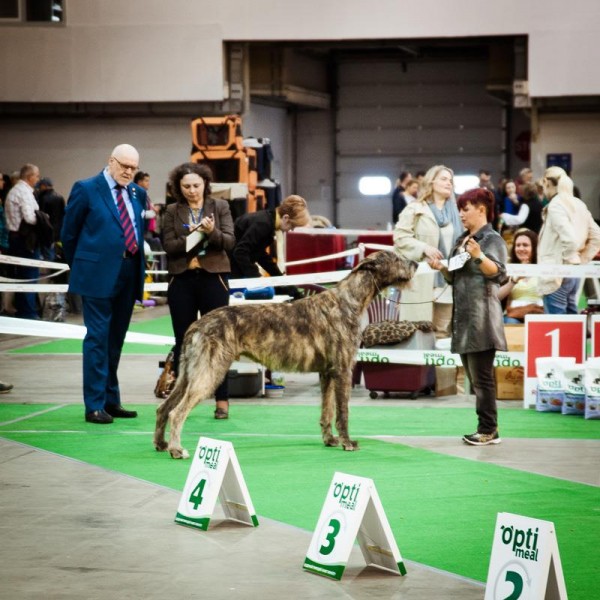 Photos by Victoria Bolkina
---
27.04.
Very proud to our FLYNN RIDER CAER DALLBEN. He's now a happy father of the three beatiful babies in kennel Caen Morhen.
Photo by Romana Vraná
---
24.04.
INTERNATIONAL DOGSHOW in Ceske Budejovice
judge: Tibor Havelka
''Baboo'' Kraksangens My Fair Lady - EX1 CAC, CAC ČMKU, CACIB, BOB, BIG5
Flynn Rider Caer Dallben - EX1 CAC, CAC ČMKU, CACIB, BOS
---
13.03.
The Great (Britain) trip to Birmingham at CRUFTS 2016
Největší a nejprestižnější výstava psů na světě. Přes 160 přihlášených vlkodavů z celého světa. The largest and most prestigious dog show in the world. Wolfhound over 160 entries from around the world.
''Baboo'' Kraksangens My Fair Lady got RES LIMIT BITCH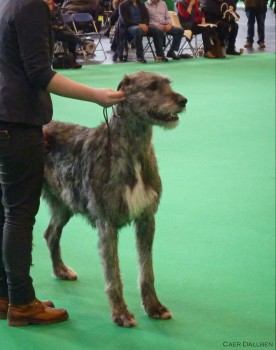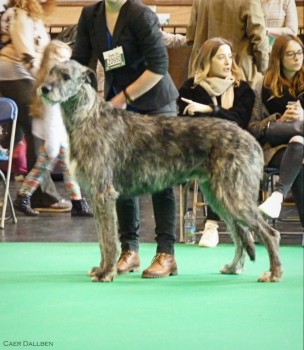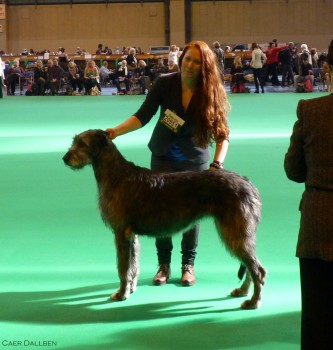 Flynn Rider Caer Dallben at Crufts 2016 ''Baboo'' Kraksangens My Fair Lady RES LIMIT BITCH
---